A stable system is reliable and energy efficient. 
By continuously monitoring and analyse HVACR system performance with ClimaCheck online, it is possible to see if and when components lose efficiency and plan measures to ensure energy efficiency.
What does energy efficiency mean?
Today there are many manufacturers of high performing chillers and heat pumps. However, there is a huge difference in buying an efficient unit and making it perform at optimal rate all the time. Ensuring that it always runs optimally, will ensure efficient energy usage also known as "energy efficiency".
Based on thousands of optimised system ClimaCheck can conclude that most systems have a saving potential on 10-30%, making it one of the most cost-efficient areas to focus optimisation action on. Considering that many of the optimisation measures are low cost to implement, and the savings are "instant" the ROI is often very short (less than one year is not unusual).

Some of the reason behind the 10-30% saving potential:
The misconception that reaching the desired temperature is a good measure of performance
Heat pumps and chillers are seen as "black boxes"
The performance of the HVACR systems is not continuously analysed on a component level
Lack of specification in the procurement process makes it difficult to follow up performance
Energy optimisation is not a part of "business as usual"
No one has an overall responsibility for performance
Maintenances is reactive or time based (preventive), which allows performance drift
Structure for predictive maintenance is not established
No useful information available
Energy efficiency is a good reason to work with optimisation, to reduce and get control of energy consumption. By reducing the energy consumption, many of our customers maintain and increased their productivity, without cost increases. At the same time they leapfrogging their sustainability work.
To ensure that the HVACR system functions optimally, the performance of the system needs to be analysed! It is not enough to know "data" e.g., pressures, temperatures and total power consumption. When performance analysis is performed, the "data" will be turned into information in the form of system efficiency index with sub efficiencies.
This level of information is necessary to optimise the system to be energy efficient as well as it enables predictive maintenance. ClimaCheck's unique way of combining the performance analysis, energy statistics and energy signatures gives a powerful tool to show the results (and needs) of optimisation as well as monitor system performance over time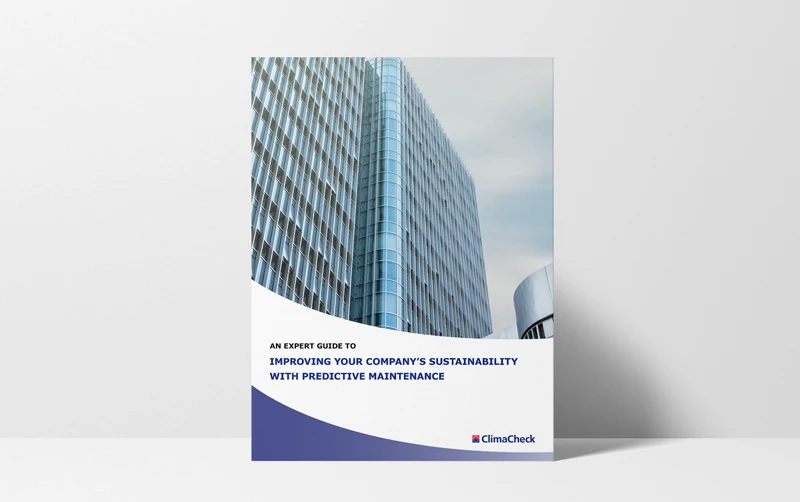 Learn how to ensure energy efficiency as a part of predictive maintenance in our guide
Fewer failures and less downtime

Reduced maintenance costs

Lower energy consumption and CO2 emissions
ClimaCheck turns data into actionable information
Collecting large amount of data without a plan, creates a false security. Without analysing the data, the necessary information to react in time when the performance drops will be missing.
When ClimaCheck is implemented (in the present BMS/SCADA system or as a turnkey system), the "black box" in the HVACR system is opened. ClimaCheck supply's all the necessary information to work with energy efficiency. By analysing the performance ClimaCheck shows much more than just temperatures and pressures. The unique ClimaCheck method (the internal method), shows true performance. The information you get will tell whether temperature X or pressure is Y is efficient.
Based on this it is possible to optimise/fine tune the HVACR system to work with your unique situation. It will also be possible to see in real time if the optimisation gave the desired result.
Possibilities when you have actionable information from ClimaCheck:
Ensure energy efficiency in HVACR system
A better performing system
Short ROI with long term benefits.
Indirect leak detection
Possibility to work with Predictive maintenance and it's possibilities*
Less loss in valuable goods/production due to breakdowns
New level of service and maintenance contracts
Service technicians can see the problem before they go to site so they can bring the right equipment to site
A way to communicate and show performance "over the border" between different companies and departments to make improvements and problems easier to explain and avoid finger pointing.
"If You Can't Measure It, You Can't Improve It."
Visualise
energy
consumption enables energy efficiency
Leading companies around the globe is using the unbiased ClimaCheck method ensure that energy efficiency is maintained. This is done with the help of "continuous commissioning", energy optimisation, a good structure for predictive maintenance as well as AFDD (Automated Fault Detection and Diagnostics). This ensures that the system runs with minimum failure rates and maximum efficiency.
The following information and more is visualised in real time at Climacheck online:
System Efficiency Index "SEI" and sub-efficiencies
Compressor, condenser, and evaporator efficiency
Heat recovery capacity
Energy signature with baseline
Cooling and heating capacity
Total energy consumption for the compressor
Control functions
Expansion valve function (superheat values)
Refrigerant charge/Leakage
Early warnings for deviations in performance
Early warnings for pressure, temperature, power outside the envelope
Inlet/Outlet temperature, temperature difference, power input

Flow on secondary media (water/air/brine) (no flow-meter necessary)
Users of ClimaCheck online (e.g., HVACR experts, contracts, equipment owners, manufacturers, performance inspectors) have access to this information and can view crucial KPI's of the systems from anywhere in the world.
When there is a deviation (e.g. performance loss) an early warning will be sent to the designated person. Making it possible to fix the problem before the system trip, and thereafter the fix can be validated to ensure that performance maintained.
Many of these features are unique for the ClimaCheck method.
Success Stories of energy optimisation
Results from energy efficiency projects
Banner Health Turnkey MBCx

To eliminate performance drift and proactively address energy savings on a broader level, Banner and ClimaCheck partner, ETC Group created a system that would be replicated across Banner's facilities.

Ice rink in Nacka Municipality

A drastic energy saving was achieved where daily energy use decreased from 4 100 kWh to 2 500 kWh (39%) which allowed extending opening from 258 to 315 days (22%) the optimisation resulted in a reduced carbon footprint of 219 metric tons.

COOL-SAVE – Energy audit report and energy saving strategies

Measurements show that performance and reliability can be significantly improved by low or relatively low cost measurements as listed below. Several of the measures are required to ensure reliability and life time expectancy of the system but will significantly improve the performance as well.