Reduce costs and breakdowns with Predictive Maintenance
By continuous monitoring and analysing performance in air conditioning, refrigeration and heat pump systems, it is possible to identify deviations. Thereafter it is possible to plan a service visit and avoid breakdowns.
What is Predictive Maintenance?
Maintenance can be divided in different categories – today the most common are "preventive" and "reactive". However, the future is predictive maintenance.
Reactive Maintenance happens after a breakdown which is costly and cause expensive downtime, which often interrupt the daily business. It can also cause secondary costs in production loss, damages in the system, as well as dissatisfied customers.
Preventive Maintenance is time based (scheduled). During service the system is checked and serviced based on a predetermined checklist. Depending on the service agreement different factors can be documented. However, important KPI's like performance of the HVACR systems is rarely checked (or available) during preventive maintenance visits.
Predictive Maintenance is based on the condition of the HVACR system which is possible only when performance is continuously analysed and monitored. This enables the service and maintenance to be planned based on needs of the system. Compared to Preventive Maintenance it is possible to avoid failures and performance drift before it happens. Making Predictive Maintenance both time and cost efficient.
Most failures are detectable long before the breakdown, but few are detected (and fewer are fixed).
The first step of optimisation is to collect and analyse data, to get actionable information. Based on this information, energy optimisation should be possible to ensure system stability which involves much more than leak detection and time based services.
The prevailing practice in the HVACR industry is to work with Preventive Maintenance, which is time-based. The goal with Preventive Maintenance: to make it from one planned service to the next planned service without any failures.
There are several challenges with this approach:
Key parameters such as compressor, condenser and evaporator efficiency are not established, documented or checked during the majority of preventive maintenance service calls.
Preventive Maintenance is planned when it is convenient for the service company not when the system is most likely to have representative operation.
At most plants there is no documentation of performance parameters to check. Not even minimum/maximum recommended values for basic parameters such as superheat, subcool and approach etc is available for the specific unit serviced.
The lack of documentation on earlier performance and lack of guidelines at site cause the accuracy and value of preventive maintenance to be much lower than expected by equipment owners.
Changing from Preventive to Predictive Maintenance (PdM) bring many advantages. The concept of PdM is to be able to determine the condition of the equipment and components in order to estimate when maintenance should be performed and perform it thereafter, instead of waiting for the breakdown or the scheduled service.
By monitoring and analyse the performance 24/7 with ClimaCheck online, it is possibility to see if and when components lose efficiency. Based on that information it is possible to plan maintenance and avoid the breakdown. The continuous performance analysis also eliminates the biggest shortcoming with Preventive Maintenance which is; the lack of attention to HVACR system operation between service occasions (unless the system trips).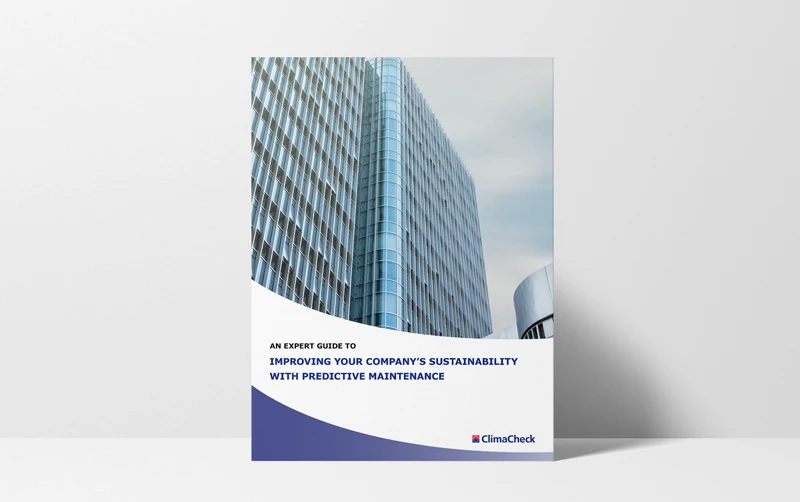 Learn how to implement predictive maintenance in our guide
Fewer failures and less downtime

Reduced maintenance costs

Lower energy consumption and CO2 emissions
Predictive Maintenance and Energy Optimisation
Leading companies around the globe are using the unbiased ClimaCheck method to utilise Predictive Maintenance and "continuous commissioning" to ensure that their plants always run with minimum failure rates and maximum efficiency.
It doesn't matter if you are a contractor, equipment owner or the service technician. In conclusion, for those who embrace Predictive Maintenance and learn how to optimise systems in an efficient way, will be the future winners.
The new way to work will of course require upgraded skills and new business models to better reflect the value for the customer. However, Predictive Maintenance saves money, time and decrease the stress of unreliable operation and failures. So, evidently investing time in education today, is a good investment for the future.
The value of Predictive Maintenance:
Elimination of breakdowns: 70% to 75%*
Reduction in maintenance costs: 25% to 30%*
Return on investment (ROI): 10 times*
Reduction in downtime: 35% to 45%*
Lower energy consumption (saves money and decrease CO2 emission)
A better performing system (fewer service occasions – longer life)
Short ROI
Less loss in valuable goods/production due to breakdowns
Service technicians know what problem they are going to fix so they can bring the right equipment directly and save time.
Information enables Predictive Maintenance 
Today it is common to collect large amounts of data. However, the lack of plan to handle the data reduces the value. Without a plan to analyse the data, there is a risk that it isn't used, since there are rarely people continuously watching the collected data.
Furthermore, to overcome this challenge, it is important to ensure that the data is analysed. Air conditioning, refrigeration and heat pump systems are no exception, ClimaCheck's unique analysis turns collected data into actionable information.
In conclusion, the information from ClimaCheck is necessary to work with Predictive Maintenance. The analysis shows performance, which lets the user know whether the power consumption, temperature X or pressure is Y is efficient during the specific operation.
By taking this information into account, it is possible to efficiently optimise/fine tune the HVACR system, to work optimally for your operation. Direct feedback on the actions will be visible in real time, at ClimaCheck online to confirm that the optimisation gave the desired result.
9-Step Method "dDOP" to implement Data driven Optimisation and Predictive Maintenance

Establish Your Energy Baseline
Start Tracking Maintenance Costs
Define Data Collection Requirements from Sites already in the Planning Stage
Define Data Collection Requirements from Existing Sites
Define How Data Points Are Transferred
Assign Responsibility for Data Collection and Communication
Assign Responsibility for Performance Analysis
Establish a Commissioning Procedure
Establish a Procedure for Predictive Maintenance and optimisation
Possibilities when you monitor and analyse performance with ClimaCheck
Established structure for documentation of performance
Proper documentation of your HVACR system performance will ensure your investment's efficiency
Actionable information available
Continuous commissioning is possible
Easy to assign responsibility within the staff, to ensure optimal operation
Predictive Maintenance
Energy Optimisation
Indirect leak detection (fewer service calls – longer life)
A way to communicate and show performance "over the border" between different companies and departments. This makes improvements and problems easier to solve as well as it avoids finger pointing.
Don't wait for your system to trip or breakdown, contact us to learn how you can utilise ClimaCheck in your organisation!
Energy Optimisation Projects
Learn how Predictive Maintenance has helped other companies
Banner Health Turnkey MBCx

To eliminate performance drift and proactively address energy savings on a broader level, Banner and ClimaCheck partner, ETC Group created a system that would be replicated across Banner's facilities.

Ice rink in Nacka Municipality

A drastic energy saving was achieved where daily energy use decreased from 4 100 kWh to 2 500 kWh (39%) which allowed extending opening from 258 to 315 days (22%) the optimisation resulted in a reduced carbon footprint of 219 metric tons.

COOL-SAVE – Energy audit report and energy saving strategies

Measurements show that performance and reliability can be significantly improved by low or relatively low cost measurements as listed below. Several of the measures are required to ensure reliability and life time expectancy of the system but will significantly improve the performance as well.