ClimaCheck online
ClimaCheck online combines the benefits of the ClimaCheck Method and the "cloud". By continuously analysing and monitoring the performance of your air conditioning, refrigeration and heat pump system, you can boost energy efficiency!
Key information available in real time
System efficiency index (including compressor, condenser and evaporator efficiency) gives in-depth performance information

Early warnings of deviations/degradation to avoid failures and downtime
Energy signature to track optimisation and identify degradations

Prerequisite for predictive maintenance
Turns data into information
ClimaCheck turns data into actionable information. By implementing the innovative and unbiased ClimaCheck method, the data is analysed and this results in information that helps you improve the efficiency of all major components in your air conditioning, refrigeration and heat pump system.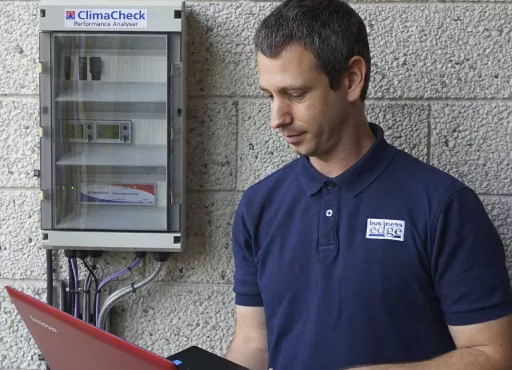 Performance deviation alerts warn of problems long before breakdowns occur
By monitoring efficiency and setting limits to alert you when performance drops, it is possible to fix problems long before a breakdown occurs. Detailed information is available to allow experts to support a huge number of sites to minimise energy consumption, failures and troubleshooting costs.
Flow charts, tables & graphs
Even the most complex systems can be evaluated in detail
By building a "digital twin" based on the unique ClimaCheck method, all information needed to optimise the system is available. It is also possible to share information from ClimaCheck with your present system to enhance it.
In-depth information is available in flow charts and as tables and graphs. With hundreds of templates available, even the most complex system can be evaluated in detail to pinpoint any deviations at the same level as advanced test rigs in a manufacturer's facility.