An introduction of the dena Platform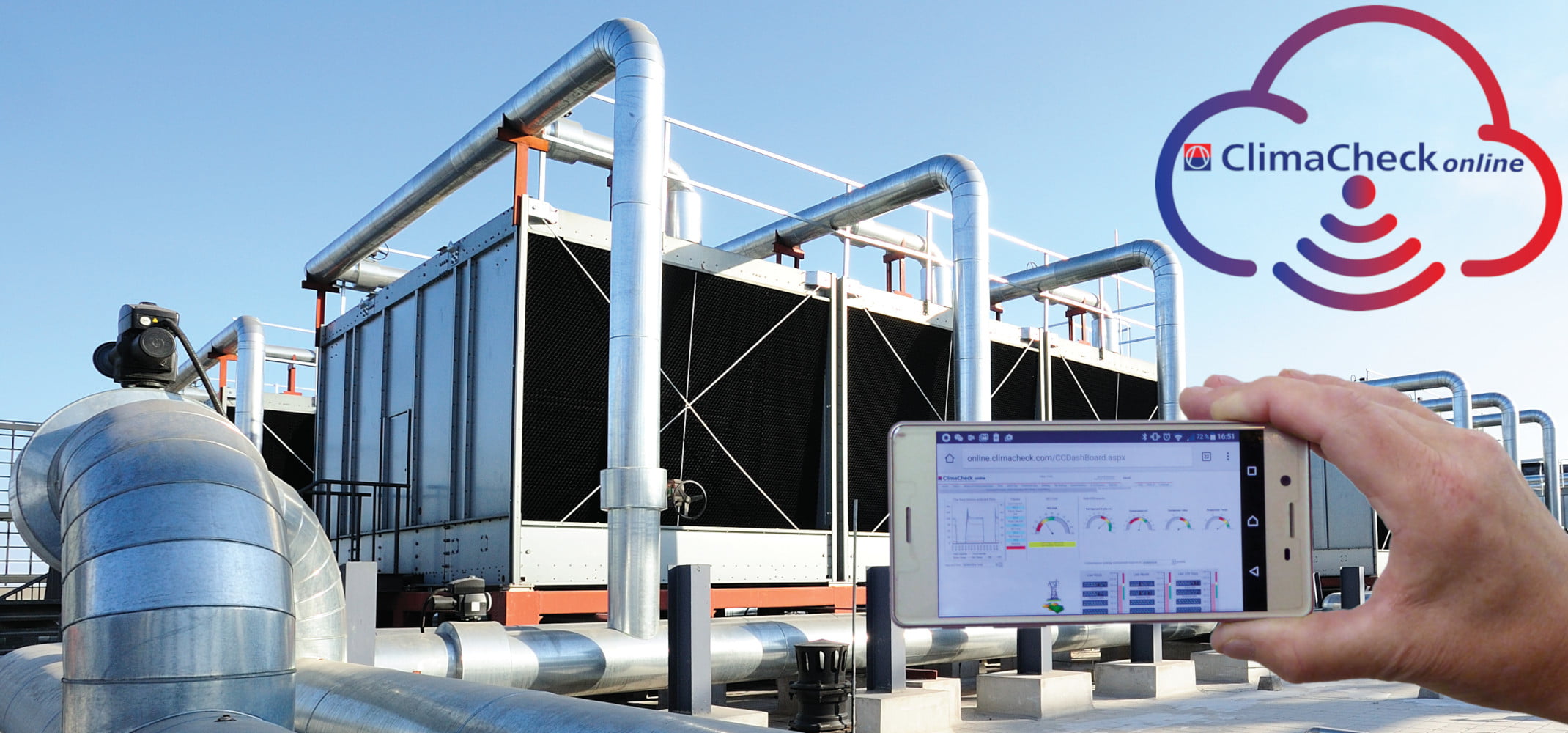 Driving Efficiency and Reliability 
with the dena Platform for benchmarking of Refrigeration, Air Conditioning and Heat Pump Systems.
This is a Summary of information for equipment owners, energy consultants and contractors.
Organised in the framework of funding project initiated by the German Energy Agency dena, Contact: Jörg Rüdiger, Senior Expert Industry
Platform development consortium:
ClimaCheck represented by Klas Berglöf, Head of R&D
ProptechOS represented by Erik Wallin, Chief Ecosystem Officer
KühlAnalyse represented by Holger Kühl, CEO
Visit https://proptechos.com/dena-benchmarking-p, for registration and access to complete project report.
Background
Refrigeration, air conditioning and heat pump systems consume around 20% of the electricity and this is expected to increase significantly. The climate change results in increased need for air conditioning, refrigeration for process cooling at the same time as the use of heat pumps will increase to reduce the use of fossil fuel for heating.
Conventional commissioning and maintenance methods do not deliver the expected performance and reliability. Installed equipment is exposed to a complex environment, making it hard to ensure efficient operation at all different operating conditions and loads without a structured measuring and analysing methodology that is rarely in place.
The digitalisation drives a transition to continuous commissioning and predictive maintenance, but the transition is delayed due to lack of accepted measuring and analysing methods. The strong focus on initial cost is caused by the lack of awareness of the energy savings available. Experience from thousands of sites show that significant energy savings are achieved at low cost.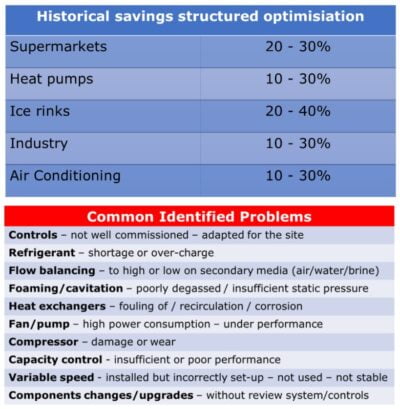 The listed savings in first table are achieved through fault correction, that, if not corrected, will result in increased wear and failures, and recommissioning of systems, not by replacement of major components.
Example of the most common actions are listed in second table. The savings achieved by low cost measures are significant, as each degree adjustment or correction decrease the temperature lift for the system and result in 2-5% energy saving. A simple change from fixed to variable set-points can result in savings of over 20%. Over- or undercharge of refrigerant often results in similar waste energy for long periods before it trips (normally at the worst time when there is maximum demand for the system).
The German Energy Agency, dena, has identified the need to push energy efficiency in the sector to reach set targets for CO2 emissions. This requires awareness increase among equipment owners as well as capacity building among contractors and consultants. The transition will result in new business opportunities for those enterprises developing predictive maintenance and optimisation services.
Benefits of the dena platform for benchmarking.
Detailed maintenance and performance data reduce maintenance cost.
The dena Platform offers state of the art performance analytics in real time presented with information tailored for the equipment owner, as well as dashboards for involved specialists such as energy consultants and maintenance contractors. The information presented offers operating cost and environmental impact in real time for those responsible for cost and sustainability of the site, but also all details for equipment performance and maintenance. The visualisation is standardised based on experience of cloud-based monitoring of thousands of sites and allows identification of inefficiency on component level and early warnings when efficiency of any component deviates. Equipment owner can give access to consultants and contractors to optimise site and reduce energy and maintenance costs at a lower cost than what would have been possible without a standardised and well proven measuring strategy. Below is an example of dashboard that contains all details not only for the whole refrigeration unit, but also to evaluate all components and maintenance parameters. The detailed information reduces time and improves quality of maintenance and most failures can be avoided.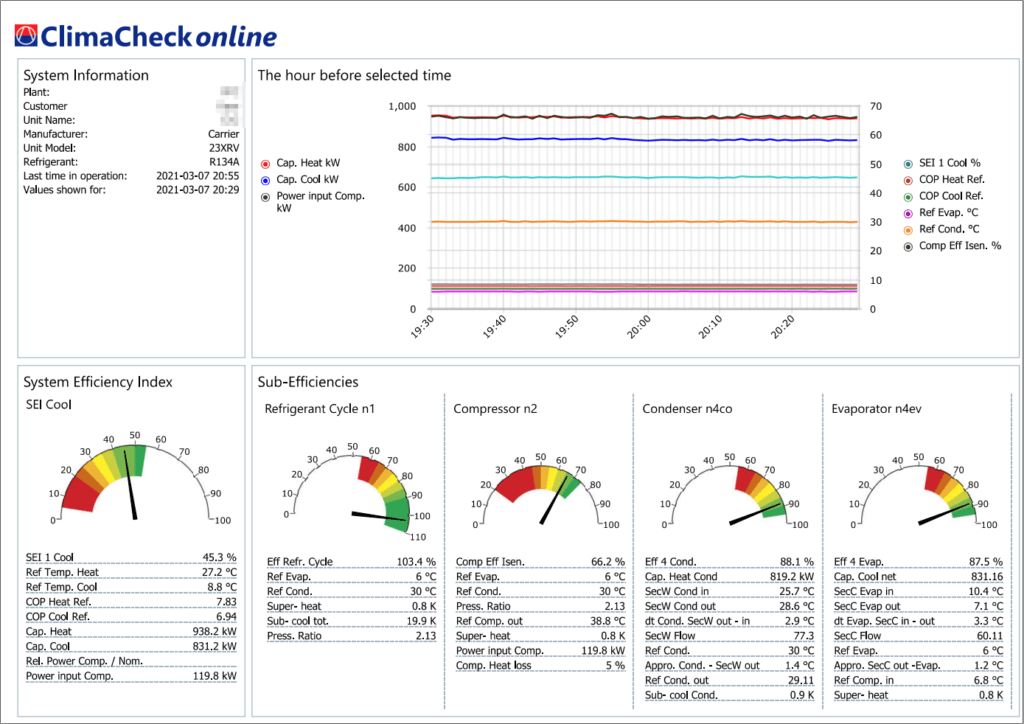 Energy signature for benchmarking, sustainability reporting and cost prediction.
For equipment owners the energy monitoring with automatic generation of energy signatures will make it possible to follow energy, cost and CO2 emissions caused by the system to detect any decrease in performance and verify results of measures to reduce energy consumption compared to automatically established baseline. Benchmarking versus statistical anonymised data will be available.
How is data collected
The dena Platform is built to minimise the need of new sensors as most required sensors are already a part of existing equipment and monitoring systems. The ProptechOS platform uses the emerging global standard RealEstateCore, which makes API connections from many modern platforms possible (i.e., server to server). It is also possible to send data from an existing monitoring system to the platform over a gateway. The consortium can supply preconfigured gateways, so existing monitoring systems write data on standard fieldbuses such as modbus (TCP/RTU) and the supplied gateway communicate data to the dena Platform over Internet using LAN/WAN or a modem. It is also possible to use a turn-key data collection system with all sensors and mounting instructions supplied by consortium for any plant, where integration is not cost-effective. The figure to the right visualises the flexibility of the dena Platform using ProptechOS to create the flexibility of the data collection and storage to allow ClimaCheck performance analytics and the dena innovative benchmarking on virtually any refrigeration, air conditioning and heat pump system. Only 16 systems will have cost covered as pilots (connected and monitored till project's end in June 2024). Additional sites will be connected and monitored at a cost. After the dena Platform project is finished, there will be a cost for monitoring for all connected sites. 
What is required to join the dena Platform
Refrigeration, air conditioning and heat pumps for all applications and sizes will be analysed on the dena Platform. For 16 pilot sites representing common applications and designs dena will cover set-up cost and monthly fees during the pilot period to ensure a rapid build-up of representative statistical data in key segments.
Non-pilot sites will be signed up for a set-up fee and monthly subscription and have access to the same dashboards, reporting and statistical benchmark information. Consortium will quote sites registered with information below through the website and establish partnerships with contractors, consultants and suppliers of equipment and monitoring systems to connect system in the most costeffective way.
Pilots will be selected on a first come first serve bases among representative sites.
Priority categories for the pilots are (capacities refer to total installed capacity at site):
A. Chillers, water cooled 100 – 800 kW cooling capacity (includes heat pumps or combined)
B. Chillers, air cooled – 100 – 800 kW cooling capacity (includes heat pumps or combined)
C. Commercial refrigeration and in particular systems with CO2 as refrigerant
For many sites, connection cost is anticipated to be low as most sensors are already available in controllers and monitoring systems on site. After registration on the website https://proptechos.com/dena-benchmarking-plattform-de/ a proposal with recommendations for data collection and communication will be presented.
Selection of test sites for subsidised connection will be done based on category and how representative the solution is for the market.
More information about the project and registration is available on the project website as above.
During Climate Week NYC, ClimaCheck was honoured to visit New York as part of the ...

Time to upgrade to Version 6 and PaProIII!?

Earlier this year, we launched Version 6 of the ClimaCheck onsite software. The new version introduces fresh graphics and expands real-time performance analysis for HVACR systems, thereby reducing troubleshooting time and makes it easier to find deviations compared to conventional methods.