ClimaCheck nominated for the E-prize 2017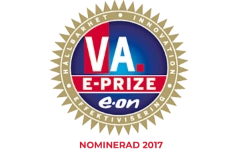 Veckans Affärer (a swedish business magazine) and E.ON (leading energy provider) have nominated ClimaCheck as one of the finalists in E-Prize 2017 in the category "Energy efficiency". The E-prize is awarded at the seminar "Sustainable Business" on October the 11th. It is the ninth year in a row that the E-prize is awarded.
We at ClimaCheck are very happy and proud that our commitment and technology related to energy efficiency are highlighted in this way.
read more about the prize on  EON's website here ( swedish )
News in swedish:
ClimaCheck nominerad till E-prize 2017
Veckans Affärer och E.ON har nominerat ClimaCheck som en av finalisterna i E-Prize 2017 i kategorin "Eneregieffektivisering". E-prize delas ut på seminariet "Hållbara Affärer" den 11 oktober. Det är noinde året i rad som E-prize delas ut.
Vi på ClimaCheck är mycket glada och stolta för att vårt engagemang och teknologi avseende energieffektivisering uppmärksammas på detta sätt.
Dynamisk styrning sänker förbrukningen markant för anläggningsägare.

Projektet genomfördes under våren 2023 och visar att det under gynnsamma förhållanden är möjligt att halvera effekten under de kritiska morgontimmarna och samtidigt avsevärt sänka energiförbrukningen.

We are proud to announce that Consolidated Consultants Consultant in Egypt has enlisted ClimaCheck in their vendor ...