Operating cost decreased with 5000 Euro/Year
Removed high risk of future compressor failures.
Executive Summary
Compressors on the measured circuit has very much lower efficiency than showing from compressor software and condenser is showing poor performance. The systems should be checked so indication of low compressor efficiency is not caused by hot gas leaking backwards from some device/connection. If no external explanation can be found and rectified it is recommended that compressors are replaced before they fail as cost of failure is much higher than planned replacement.
The condensing temperature of 46°C at an outdoor temperature of 26°C indicate a poor condenser performance that will result in critically high condensing at high ambient conditions if dT remains. The system is likely to trip on high pressure at high ambient condition. The likely cause is high refrigerant charge as subcool is very high. A second possibility would be that control set-point of condensers fan is high but it would be unlikely to be set at so high pressure. The increase of energy recovered in desuperheater from operating at normal temperature would not justify the increase of energy and wear such an increase result in.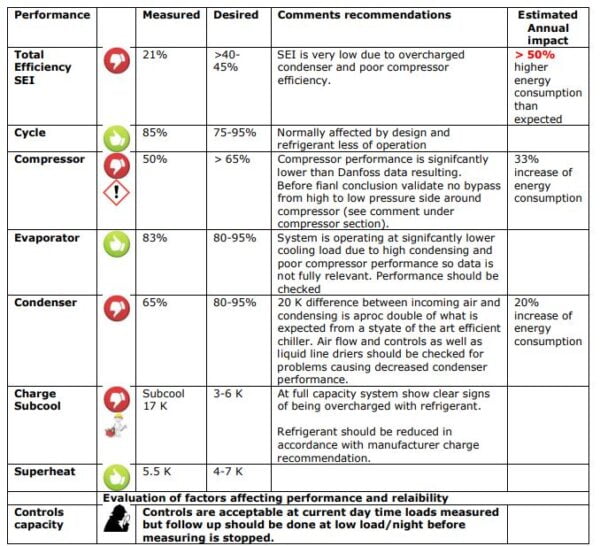 Disclaimer; ClimaCheck Sweden has not had access to design data/specification for the chiller so analyses are done strictly based on an evaluation of the performance versus "good practice" in general and compressor software not versus specification for this particular site.