Competence is the key for the future professionals to lead the change
ClimaCheck offer an unique methodology based on thermodynamics for performance analysis and energy monitoring of refrigeration, air-conditioning and heat pump systems. 
The information from ClimaCheck enables completely new way to work with HVACR-systems. That make it possible to follow performance, work with optimisation and predictive maintenance that isn't possible with the old/classical methods.
To get the most of ClimaCheck we are working actively to raise the awareness and knowledge around HVACR-systems to decrease our industry's negative effect on the environment. We offer training all round the world within the ClimaCheck network, from entry courses to more advanced deep dives in the possibilities with the technology.
Are your company ready to take the next step? Participate in a level 1 or level 2 or contact us for a custom training for your company.    
Level 1
Basics of ClimaCheck hard and software. Measuring & verification with ClimaCheck on "standard" systems. How to use and interpret results and create reports on standard systems as well as  how to create a performance report on standard systems.
This training is aimed for technicians and engineers who has limited experience of ClimaCheck analyses. For those who has no experience we will send out a demo software version prior to training.
Level 2
Focus on ClimaCheck based optimisation for those who has practical experience from a number of measurements with ClimaCheck and want to develop the skills to measure and analyse complex systems. This course is mainly about, deeper analyse of ClimaCheck data, Predictive Maintenance (Early warnings), trouble shooting, optimisation and reporting rather than the ClimaCheck hard- and software .
Prior experience of ClimaCheck is required to participate in Level 2.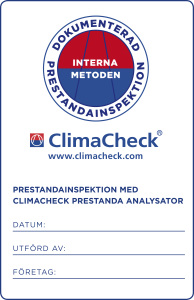 Once a year ClimaCheck have an international training with lecturers from ClimaCheck and experts from the ClimaCheck network that will guide the participants through practical and theoretical training sessions. For more information, email: training@climacheck.com 
Certification from "ClimaCheck Training" is required to be listed as
"ClimaCheck Partner".
Find out when our next training course is in our Event Calendar.