Competence is the key for the future professionals to lead the change
ClimaCheck offer an innovative methodology for performance analyses and energy monitoring of refrigeration, air-conditioning and heat pump systems. This information is required to optimise systems that consume 15-20% of the electricity produced globally. With increasing energy costs and the focus on global warming, the RAC industry is now facing new demands from customers who have identified these systems as their major energy user and the high maintenance cost often associated with them. There is also an increased focus on measuring and validation, as well as early warning to achieve maximum reliability. To maintain temperature is critical for the end-user business but maintaining temperature alone is no longer sufficient. The ClimaCheck Performance Analyser gives you state-of-the-art methodology for true performance analysis of all types of RAC systems and is increasingly becoming part of the everyday work for contractors, consultants and equipment owners across the world.
Technical Training Course with ClimaCheck Sweden AB focuses on:
Practical measurement of Refrigeration, Air Conditioning and Heat Pump Systems
Use of ClimaCheck Portable and Fixed performance Analysing Equipment
Performance Inspections and Energy audits
Experiences from Cases
Troubleshooting and Energy Optimisation
Target Groups: The ClimaCheck courses is aimed at professionals with a good experience and understanding of refrigeration processes in refrigeration, air conditioning and heat pump systems. Basic understanding of the thermodynamics and practical understanding of the components of a system are prerequisites for participating.
The training programs are divided into two "Levels":
Level 1 – Basics of ClimaCheck hard and software. How to use and interpret results and create reports on standard systems. This training is aimed for technicians and engineers who has limited experience of ClimaCheck analyses. For those who has no experience we will send out a demo software version upon registration which we recommend participants to study prior to training.
Level 2 – Focus on advanced use of ClimaCheck and optimisation of systems for those
who has practical experience from a number of measurements and want to develop the
skills to measure and analyse more complex systems. Focus is on analyses,
optimisation and reporting rather than ClimaCheck hard- and software.
Prior experience of ClimaCheck is required to participate in Level 2.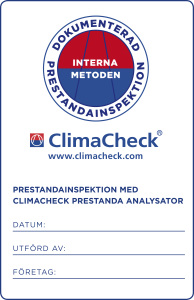 Experienced Lecturers from ClimaCheck and experts in the ClimaCheck network will guide the participants through practical and theoretical training sessions. Some sessions will be common and others will be split in groups based on prior experience.
Certification from "ClimaCheck Training" is required to be listed as
"ClimaCheck Partner".
Find out when our next training course is in our Event Calendar.