Freeing up time to focus on future improvements and activities that is interesting, is something a lot of people would like to do. But because of the daily struggle with problems that "just" appears and needs to be fixed, they can't. Working reactive to fix problems, is "business as usual" in many cases. However, this slows down development and is expensive.
Property owners, FM companies and the HVACR industry are no exceptions, a HVACR system that breakdown is costly and time consuming to fix. And with more extreme weather conditions, threatening to be the new normal, so the problems won't go away by themselves.
Many problems only appear at peak load/conditions when the system is pressed to the limits, and all capacity is required. As the cooling or heating loads can be supplied by a defect/inefficient system most days of the year, the risk of a failure is when the demand is peaking.
Most or all faults are detectable long before the problems occur, but few are detected.
Therefore, it is important to measure and analyse performance continuous, to detect deviations when they appear. To be able to fix the problems before it causes a breakdown.
If a HVACR system fails in a building, it will "only" cause the indoor climate to fail, food will be destroyed, revenue will be lost, customers will leave, and someone will need to work around the clock to get it working.
The consequences on a ship of a failing HVACR system will result in all the above, but it might also force the ship to return to port. Or force technicians and/or spares to be flown across the globe, to fix the problem. In other words, a failure can affect thousands of guests and cause bad publicity.
ClimaCheck on ships
ClimaCheck is installed in ships to ensure that their HVACR systems use as little fuel as possible, prevent expensive failures and loss of cooling. ClimaCheck online makes it is possible to monitor a lot of systems online, in real time. This makes it easy to plan maintenance when the ship is in port knowing what need to be done.
Recently ClimaCheck have been installed in a ship, with four chillers to analyse their performance. The initial analyse showed that one system was in immediate risk of failure. After two rounds of optimisation it was possible to save 225 000 kWh (26%) and the HVACR-system runs much more efficient and have a lower risk to failure.
In addition to expensive energy on boats they have a high CO2 emission as the energy is mainly from generators that runs on fossil fuel. In this case they have decreased the CO2 emission with 200+ tons.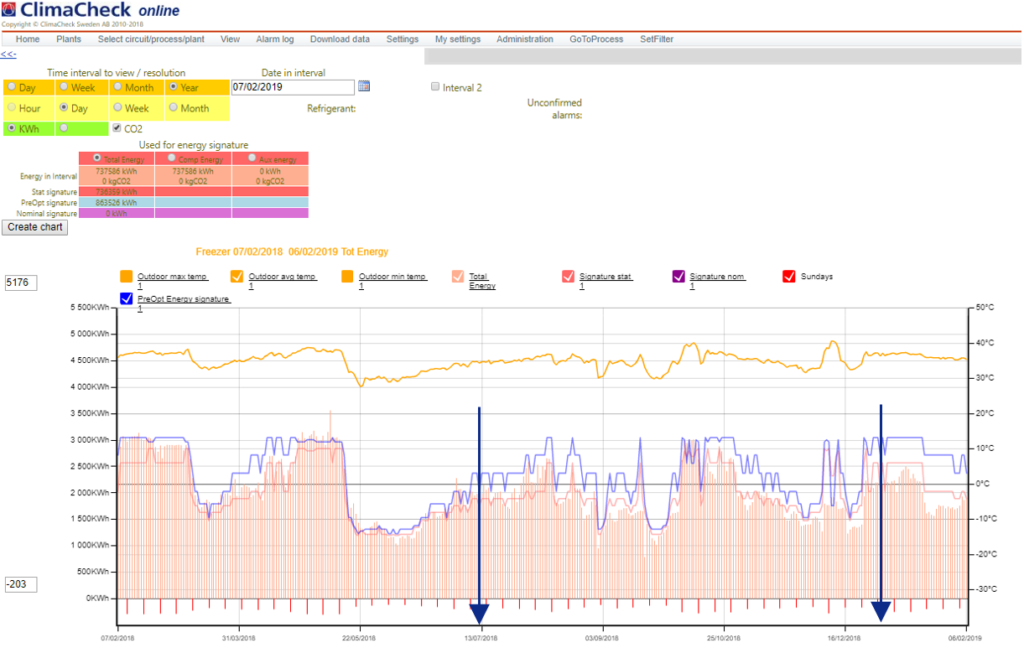 If you want to read more the case can be done here. If you are interested in the initial report or want know more about ClimaCheck send an email to info@climacheck.com  
Vägledning för att flytta effekt och optimera kylanläggningar!

I livsmedelsbutiker och storkök finns det en möjlighet att sänka temperaturen i kyl- och frysdiskar under natten och lagra kyla i varorna och på så sätt minska eleffektbehovet under de kritiska timmar på morgonen. 

ClimaCheck International Training 2024

During the two days training, you will get insight in the use of ClimaCheck and the opportunities enabled for energy optimisation as well as predictive maintenance.